Best Kids Piano Music Keyboard (Latest 2023)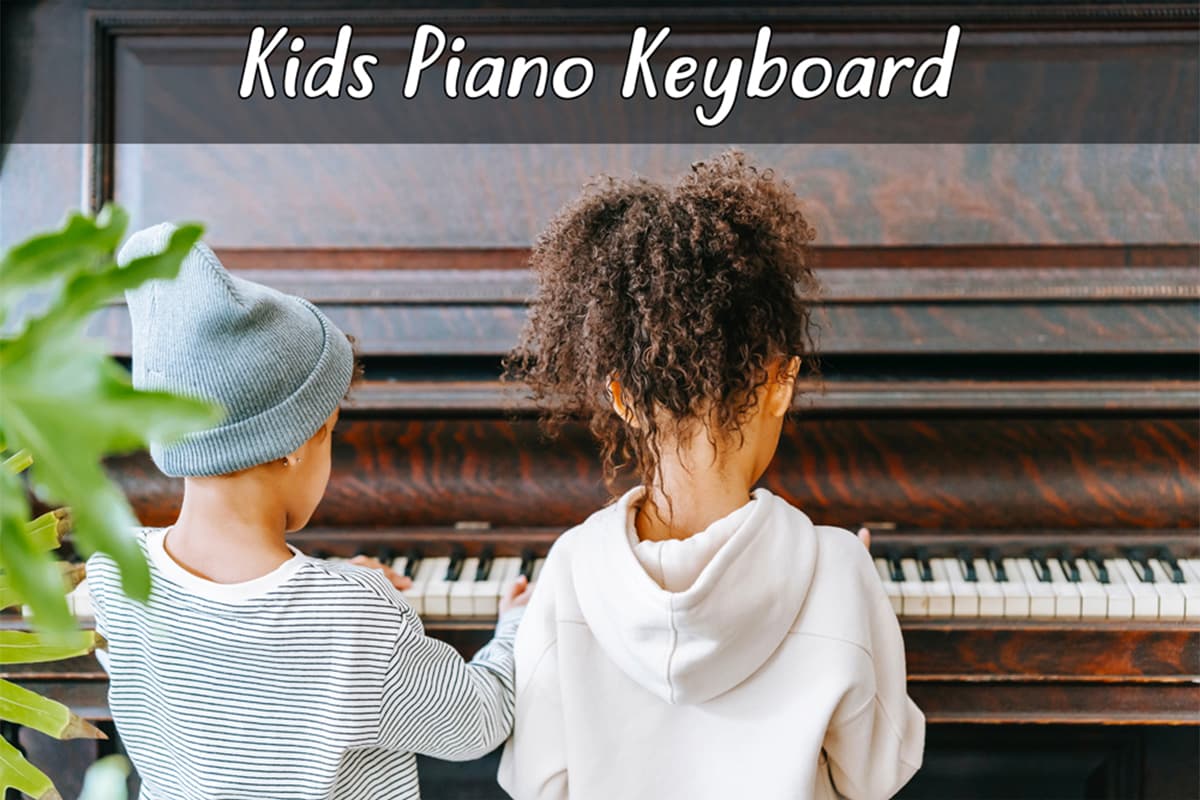 Are you looking for the kids piano keyboard as your kid is showing interest in music? You as a parent should support their interest with the right musical instrument for kids. There are plenty of musical instruments available but a piano is best to start their musical journey.
Choosing the first right kids piano makes it important to decide because everyone wants to get the best one out of all. For a kid, small keyboard piano is perfect instead of a full-size keyboard piano. Because this would help them adjust to the fingers and learn the transition between the keys easily.
In this article, I have listed the 4 Best Kids Piano Keyboards that suits you perfectly according to your budget whether you are going to buy them for learning or playing purposes. I have also discussed the features, specifications, piano price in India, and the pros & cons of each music keyboard. You can check the piano price in India on Amazon.in by clicking mentioned links. By the end of the article, you will be able to decide which one should you purchase. As we all know when we talk about music, to be specific, musical instruments, first only two brands come into our mind: Casio and Yamaha. So I have only listed branded Yamaha and Casio piano for kids.
Also Read: Casio CT-X870IN Indian Piano Keyboard Review
4 Best Kids Music Keyboard Price In India
Casio is the leading manufacturer in the market of musical keyboards. Here, Casio comes with Casio SA-46 (green shell base) | 47 (grey shell base) Music Keyboard.
This is a very good kids piano to start learning a musical instrument and building skills. Though it is targeted at kids, anyone can train their ears by playing the keys and learning the notes. Also, this piano is useful for anybody (regardless of age) who likes to play some tunes in their free time.
This mini-musical keyboard comes with 100 tones, 50 rhythms, and 10 integrated songs. The tones are very pleasant and many tone customization options are available on this piano. You should not expect too much from the sounds, but the basic sounds (piano, organ, strings, and some synth sounds) are quite useful. The tuning of this keyboard is very good and the harmonium tone is very sweet. As there are a lot of tunes and tunes of almost all instruments included in the piano it is very helpful to learn other instruments also using the same piano which is amazing.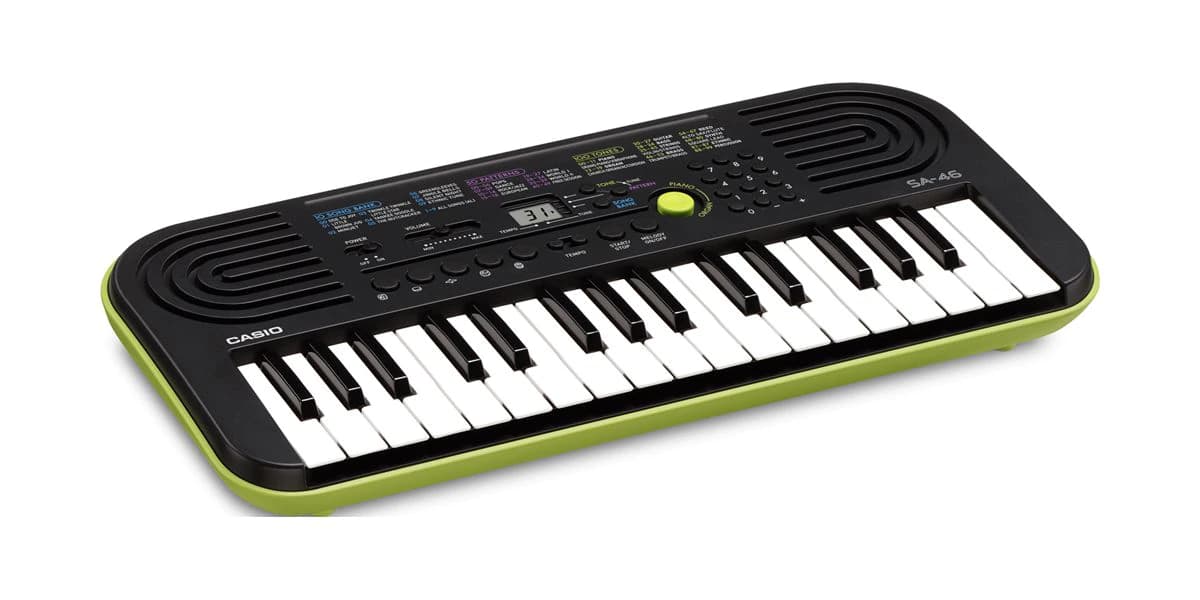 Pros
Value for money
Portable
Lots of Sounds
It has 32 mini-size keys which are perfect for small kids' fingers. The key size is roughly the same as that of an Indian harmonium. The keys move smoothly and with just the right resistance. It has also 5 drum pad buttons on the music keyboard to play drums which are added advantage in playing with tempo and rhythms. The volume slider works very smoothly and smoothly (no scratching and no crashing transition from quieter to louder or vice versa).
The sound is acceptable and the built-in speakers are completely sufficient for practicing. Also, headphones can be plugged in quickly through the jack port. It can be operated both on power and 6 AA size batteries which long last. But they should include the adapter as well for the same Casio price.
For the piano price, definitely, a very good one, which is pleasantly different from the usual colorful children's toys pleasantly and is best suited for one's purposes. I highly recommend this Casio keyboard for kids, as Casio quality needs no introduction and they have a winner on their hands here.
The second one is Casio SA-76 (orange shell base) | 77 (grey shell base) | 78 (pink shell base), which provides all budding musicians with the essentials for playing their first tunes.
This mini music keyboard also comes with 100 tones, 50 rhythms, and 10 integrated songs included with 5 drum pad buttons. But it has 44 mini-size keys which are 12 more when compared to the previous one.
The difference between this music keyboard and the previous one is only of some keys and a little bit key's size. You will get more keys by paying only Rs. 1000 approx. extra with the previous Casio price. All other features and specifications are the same as Casio SA-46 | 47. This one is also a good option as a small keyboard piano (Kids piano) for kids.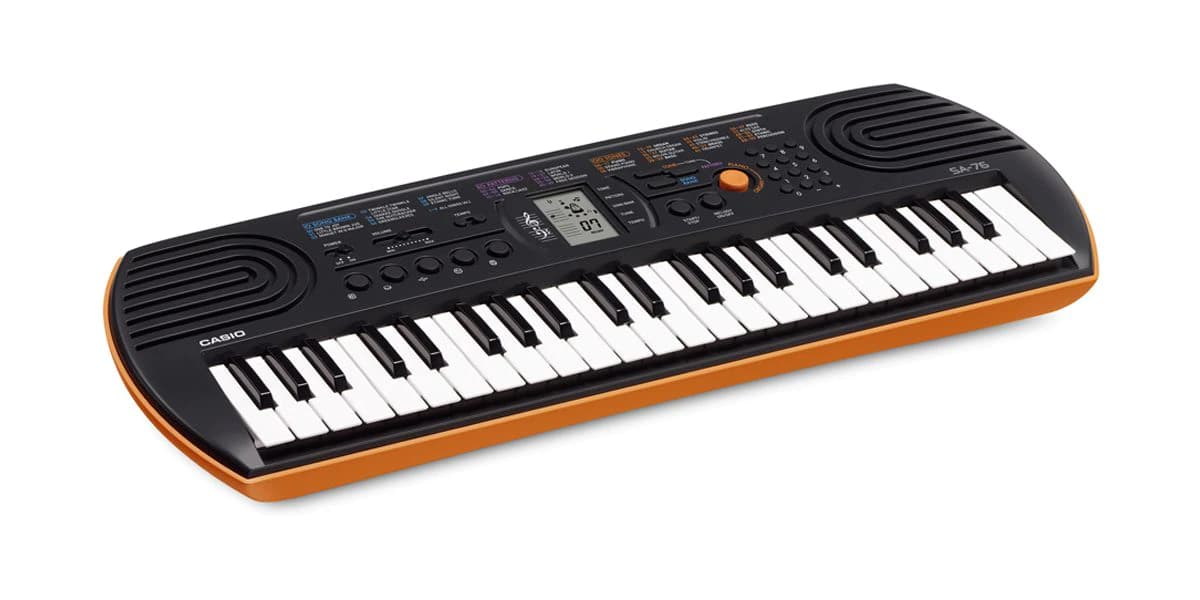 Pros
Value for money
Portable
Best for small children
Not only Casio but also Yamaha is leading in this race. Yamaha Remie PSS E30 mini keyboard is specially made for kids. Your kid will be in love with this piano. I prefer it over Casio because of its 37 keys quality and sound quality. The best part is you can play it with any mobile charger or power bank. This small kids piano comes with high-quality 47 Voices + 74 Sound effects, 28 auto accompaniment Styles and the Smart Chord function, and 30 onboard Songs.
The sound is refined, has decent features and the build quality is robust. If your child wants to play with the right hand then it's a great choice even if you also love to play its tone quality is perfect. Also in functions, it has an in-built sustain feature, octave shifter, and many more this product under 2900 INR is the great one for small kids. Go for it without any doubt for your child.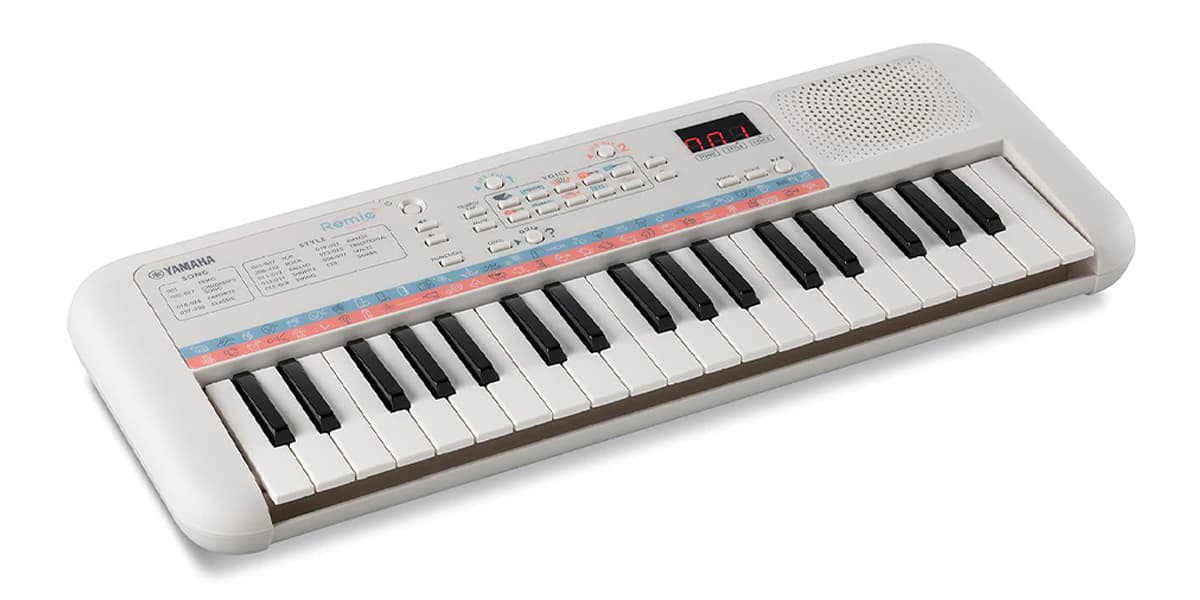 Pros
Light-weighted
Best Sound Quality
Simple user interface
Inbuilt Sustain feature
Another Yahama keyboard Yamaha PSS F30 is one of the best kids piano keyboards one can buy for under Rs. 5000/-. The piano price is excellent for kids as a first music keyboard. This Yamaha mini keyboard for kids under 5000 INR doesn't cost a lot only but also delivers the goodies in spades. Compared to Casio keyboards in this price range, the Yamaha keyboards sound amazing!
Plenty of serviceable sounds to choose from like 17 Voices + 3 Drum Kits (Inc. 8 Indian Voices), 114 (Inc. 10 Indian Styles) Preset Styles, and 30 Preset Songs. It has 37 keys, small but feels good. The action is just right because I feel that it is a little bit difficult to control the pressure than in normal size keys.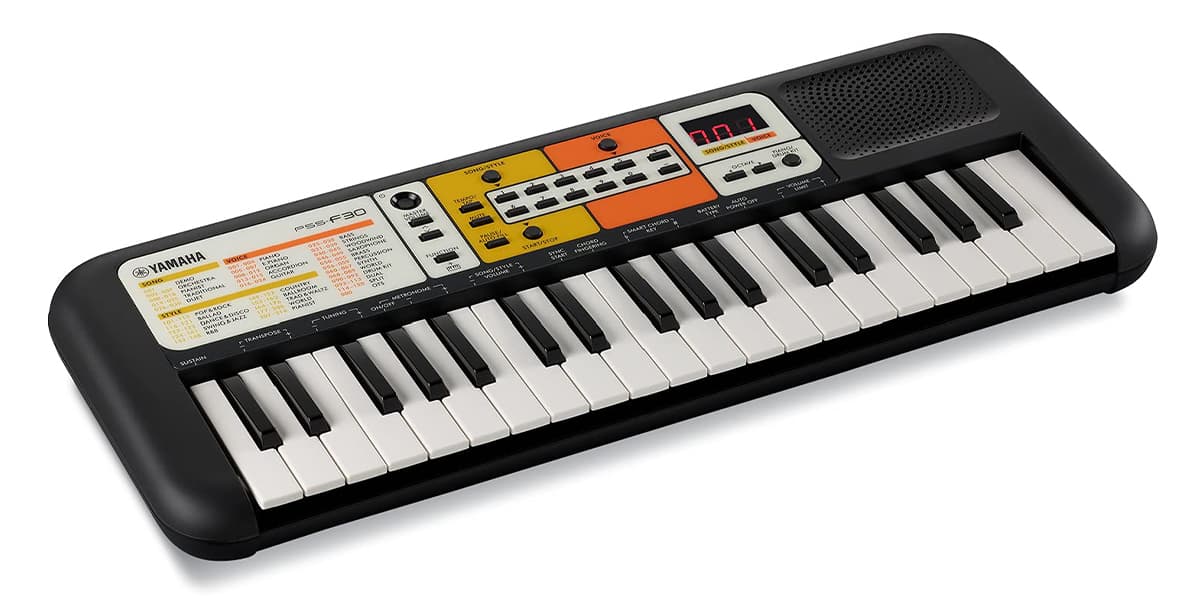 Pros
Light-weighted
Good sound Quality
Simple user interface
Inbuilt Sustain feature
Cons
Limited Features
No MIDI Connectivity
It has some very cool features like panel sustain, transpose, smart chord, metronome, auto-power off, and octave shifting to mimic a full-size keyboard. Touch sense is the only one missing. It doesn't have pressure-sensitive keys, which to me is a plus, not being an experienced player, but it seems to me that keys this small are better off without this feature.
The single speaker is loud enough and the 3.5mm jack can be used to connect to an amplifier. It can be operated on a USB power supply means that one can power this keyboard with a phone charger, a laptop, or a power bank for complete mobility (like I do).
Kids and beginners would love this as it is a perfect music keyboard to start their musical journey. It is a portable keyboard which is a good thing, especially for kids. Yamaha PSS-F30 is a very good kids piano keyboard, with very good sound quality, totally value for money as per Yamaha keyboard price.
Conclusion
So, therefore, I have discussed the 4 best kids piano keyboard under 5000 INR with piano prices in India of the top music keyboard brands Casio and Yamaha. Choosing the perfect one depends upon your requirements like the number of keys, size, budget, sound quality, etc.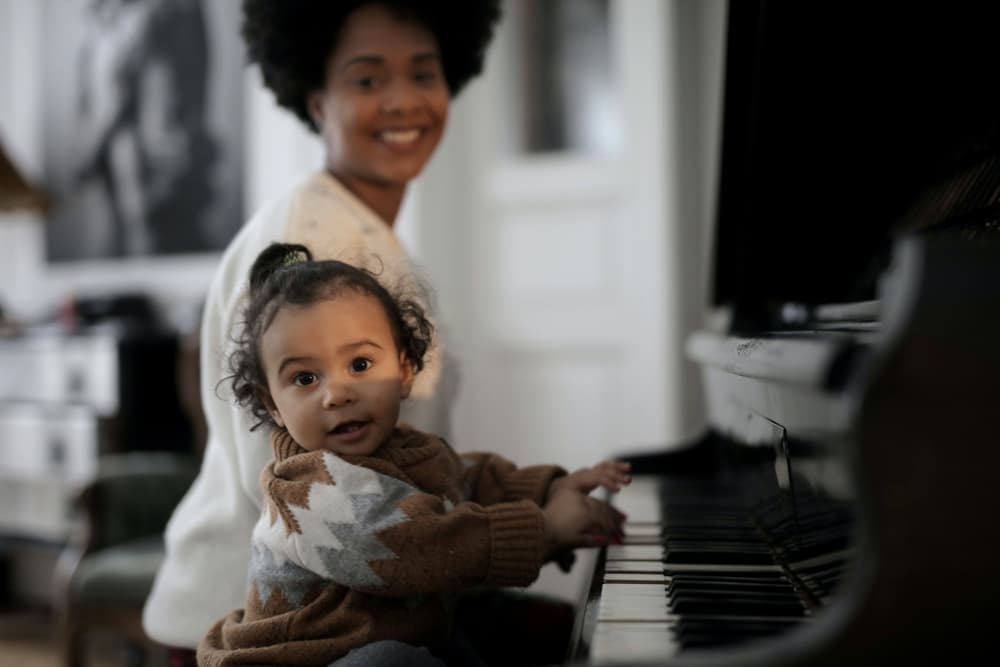 So before purchasing consider our guide, check the latest piano price in India by clicking on the button 'Check Price'. I think now you don't have to do more research to decide on the right kids' piano keyboard. Make sure these are keyboards, not digital pianos. If you have any confusion between pianos and keyboards, see our guide.
You can also find your best piano keyboardaccording to your needs of features and specifications. For any queries, contact us.
Also Read: Audio-Technica ATH-M20x Over-Ear Professional Studio Monitor Headphones Review