Difference between Piano and Keyboard
What is the difference between piano and keyboard?
Are Piano and Keyboard the same?
Similarities between piano and keyboard?
Piano or Keyboard which is better?
Which one sounds better?
What will be the cost of both Instruments?
Should I purchase a Piano or a Keyboard?
Oh my God! So many doubts and questions. I am so confused…
So many questions are coming in your mind related to the difference between piano and keyboard, right? Lots of people have these questions and doubts. Many got confused about which instrument should they purchase at the beginner or pro-level and which is better piano or keyboard.
Don't Worry. In this article, I will resolve all your queries because I will explain to you about difference between piano and keyboard, introduction to both instruments, comparison, etc.
By the end of the Article, you will be able to understand the difference between piano and keyboard.
So, let's get started!
Also Read: Casio CT-X700 Keyboard Review | All Features and Specifications
What is Piano?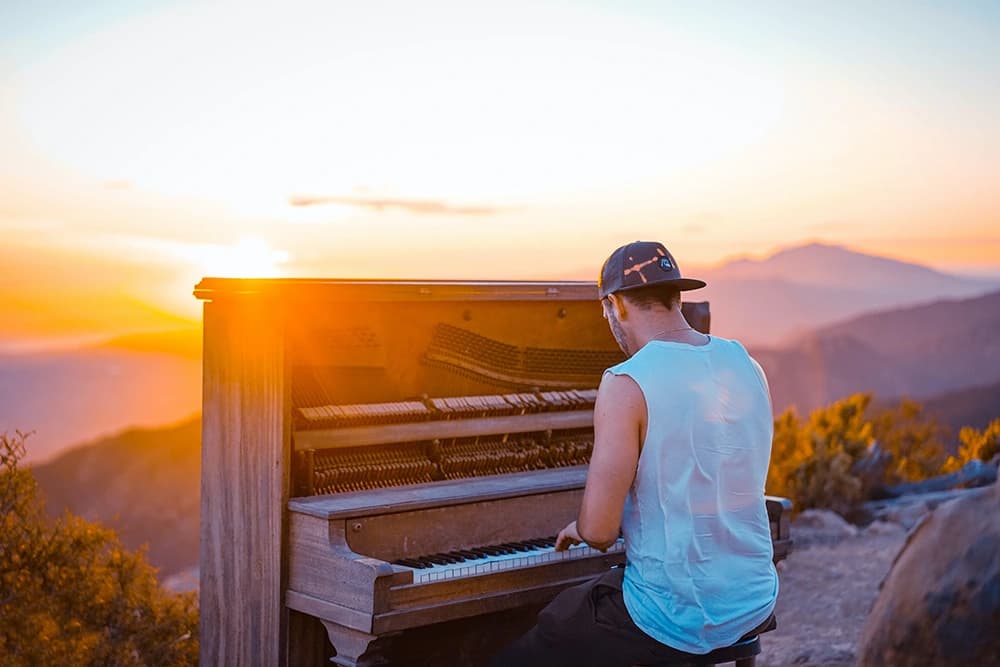 Acoustic Piano
First, I will tell you what is a Piano like?
The piano is an acoustic stringed musical instrument that was invented in Italy by Bartolomeo Cristofori around the year 1700. The term 'Piano' is an abbreviation of 'Pianoforte'. The piano is one of the most loved musical instruments. The sound of the piano is very rich and traditional.
Types of Piano: There are mainly three types of piano which are Grand Piano, Upright Piano, Digital Piano.
Working of Piano: How acoustic piano produces rich sound? When you press a key on the piano it causes a small hammer inside the piano to hit a string. When the hammer hits a string, it vibrates and makes a rich sound. Each piano key is connected to its own specific hammer which hits a specific string.
Also Read: What is Octave in Piano?
What is Keyboard?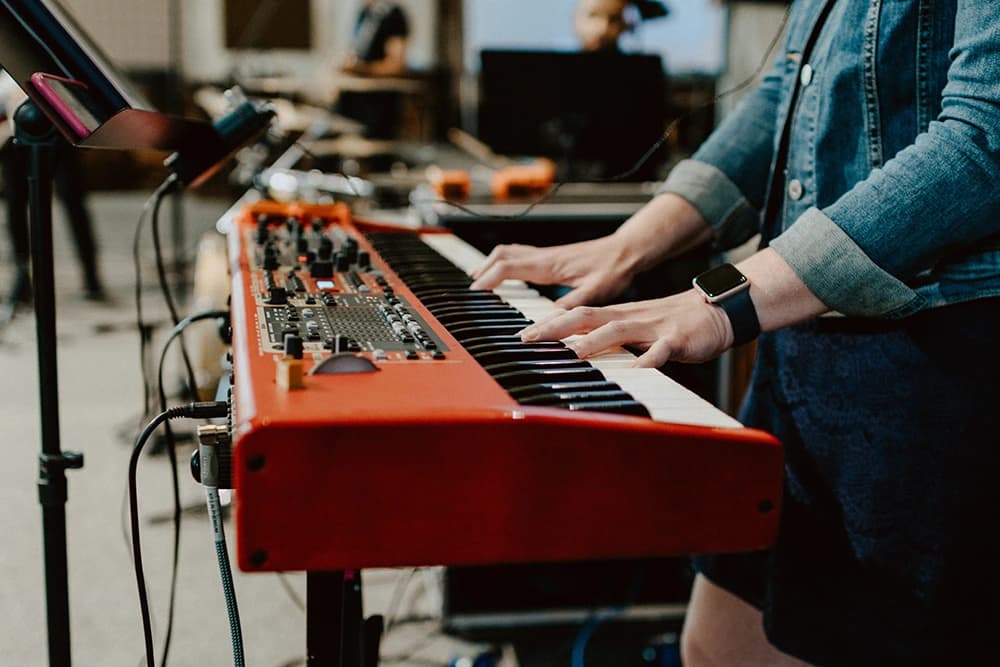 Keyboard
Now comes to Keyboard…
A Keyboard can be defined as an electronic musical instrument that runs on a power source. It has a set of keys which operate many instruments sounds like piano, strings, violin, accordion, organ, guitar, etc. The Keyboard is also known by other names like the electronic organ, synthesizer (synths), etc.
The electronic keyboard has a variety of tones, rhythms, and song banks feed in the memory of the keyboard. You can use anyone while playing the keyboard. Keyboards are designed to use as a MIDI Controller also simply by connecting to DAW's Softwares (Digital Audio Workstation) on a Laptop or PC to produce and record music.
Types of Keyboard: Keyboard comes in variations from keyboard sizes like 88 keys, 76 keys, 61 keys, 49 keys Keyboard to keys sizes like Full-size, Slim, Mini keys.
Also you can find your piano keyboard according to your price or requirements. Here you can find your best according to your needs of features and specifications.
Also Read: What is MIDI Keyboard or MIDI Controller?
Difference between Piano and Keyboard (Comparison on various Factors)
Price
Pianos are expensive than keyboards specially acoustic one. But if you are looking for affordable instrument then you can opt for keyboard.
Portability
If you are a Musician and usually perform in many places then portability is the major factor for you. You need an instrument that you can carry along with you during traveling means you can carry where you want. Because the keyboard has much lighter weight than the piano.
By the way, you can also consider Digital Pianos. It is like a keyboard in appearance but a little heavy than a keyboard.
Space
Acoustic Pianos need much free space to place because of its large size. But keyboard needs not much space.
Weight
Piano is heavier than Keyboard specially Acoustic Grand Piano is heavy because of its large size, made up of wooden.
Sound Quality
Now comes to the sound quality of Keyboard vs. Piano
Acoustic Pianos have high rich and traditional piano sound quality. Digital pianos are designed to prove sound like real acoustic piano also. Keyboards may not produce the sound of piano-like an acoustic one. Keyboards mostly are for learning and practice purposes for piano.
Feel
When it comes to feeling, obviously Acoustic Piano has a feel like a real piano because Graded Hammer Action technology is there that makes keys more sensitive to pressure. The piano has 88 Keys which giving you a full range of notes with dynamic range. It has weighted Keys which means you will feel like you are playing an acoustic piano. This is the major difference between piano and keyboard.
Keyboard do not have Graded Hammer Action like piano. They have soft and unweighted Keys.
The high-speed digital signal processor is also applied for each sound type, such as melody, backing drum, and bass, or organ. Even the standard ensemble for a keyboard delivers distinct sounds for each instrument for an expressive performance.
What should you Choose, a Piano or Keyboard?
Many students have interest to learn and play piano but they cannot purchase acoustic piano at beginner level because of high costly it is.
If you are a beginner then you can go for either Keyboard or Digital Piano.
Those who want a portable instrument with lots of instrumental sounds like tones, rhythm as well as want to use as a MIDI Controller, then Keyboard suites you perfect.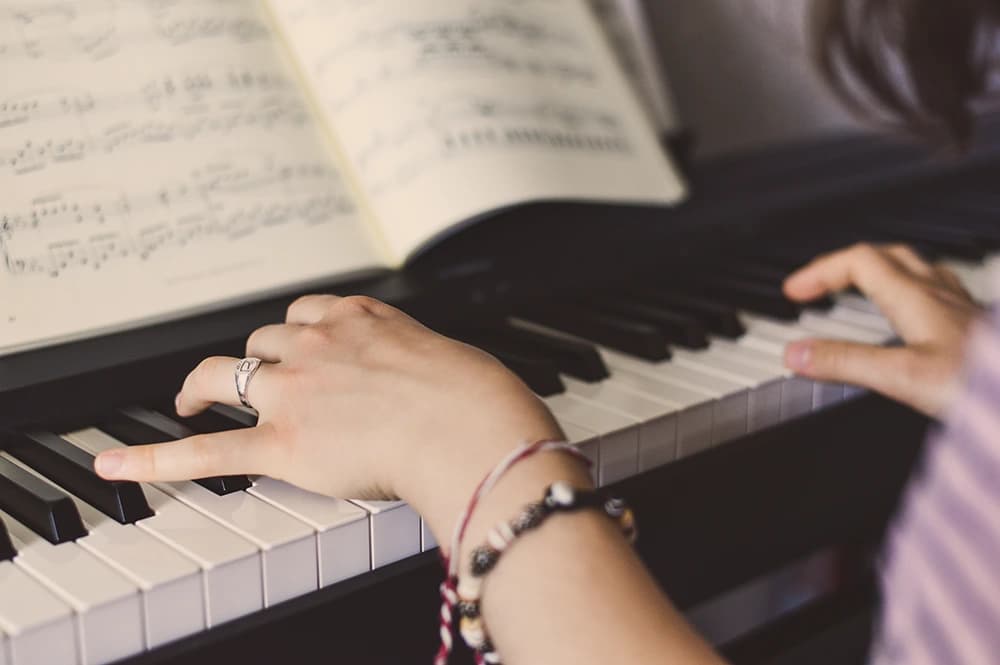 Digital Piano
And if you want to learn piano, play like real piano literally and you are searching for an affordable one then I recommend Digital Pianos.
The reason behind that digital pianos has weighted keys which feels like you are playing a real acoustic piano. A digital piano is designed to copy acoustic piano by using a digitally produced sound technology instead of a hammer action. This is the most affordable than an acoustic piano with inbuilt speakers and three pedals. This is the difference between acoustic piano and digital piano.
If you are a well pianist and have enough budget for acoustic piano then you can purchase it.
How to Choose a Piano or Keyboard For a Beginner Student?
Before purchasing, it is good to have a conversation with your Music instructors. They will guide you more and help in selecting Brands like Korg, Casio, Yamaha or Roland, etc. with the right one that suits you perfectly.
Also Read: Top 8 Best Piano Keyboard Under Rs. 10000 of 2023
Conclusion
So, I hope you will have understood the major difference between piano and keyboard that both are two separate instruments with two completely different functions and unique experiences. The piano is an acoustic instrument while the keyboard is an electric instrument. For any query, contact us.